It's hard to believe Thanksgiving is next week. I'm grateful for a three day weekend this week and a five day weekend next week. Two short weeks. The only frustration is that it makes it difficult to schedule meetings, tests and all the wonderful things I need to accomplish this time of year.
I'm joining Lyndsey at A Year of Many Firsts for

her

linky party Stuffed with Thankful Thoug

hts

.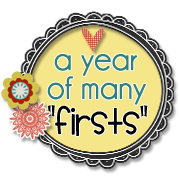 I) I'm thankful for cooler weather. After a long summer of hot weather this is the best time of year in Arizona. It's cool and beautiful and there are so many different things going on that are a lot of fun.
2) I'm thankful for my family
.
I love spending time with all of them. My parents are snowbirds and live nearby this time of year. So it's nice that we can get together and do things anytime we like. My b

rother and his family live in Ohio and we try and get together anytime we can.
3) I'm thankful for my sweet boyfriend. He's my best friend and always makes me laugh. He's always up for a new adventure and

trying something new.
4) I'm thankful for our summer cottage in Minnesota. It was built by my Great-Great Grandfather and is more than a 100 years old. My parents renovated it recently so hopefully it'll last for a 100 more years. It's a place I go to every summer and see friends and family that I only see about once a year. A lot of our neighbors are related, and if not our parents and grand

parents have been friends for all their lives. So much history there.
5) I'm thankful for a job I love. It took me a long time to find my niche, but teaching resource is it. I love the school that I work at

, and the students that I work with. It's a special place that feels like home.
6) I'm thankful for the swing dance community. I've been swing dancing for more than 5 years and have been able to develop a lot of amazing friendships, and countless hours of fun

on the dance floow, whenever I'm feeling tired or blue a twirl on the dance floor always make me feel better.
7) I'm also thankful for yoga. I always feel better after a yoga practice. I'm lucky that the community I live in also provides a lot of inexpensive or free outdoor yoga

.
Last but not least I'm thankful for all of those who serve in the military both past and present,

Thank you!!